Were it not for the media tweakers at Novitec, a German tuning shop specializing in Ferraris, we'd never ever get to see how engineers tunnel-test a Ferrari fitted with one of the company's aero kits. But there we are — complete with photo spread. It's a story of how a bunch of really smart people determine the drag coefficient of the company's Novitec Rosso F430 Supersport. The wind tunnel simulates a speed of ~87 mph, at which engineers determine lift at the front and rear axles. The point is to keep the horse from prancing too wildly, despite the increase in power from Novitec's engine mods (read: twin superchargers). Plus, the F430 just happens to look extremely cool amid all that science gear. – Mike Spinelli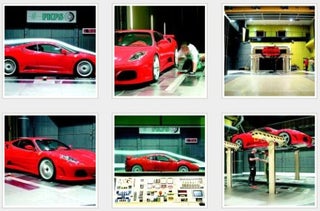 S
Press release:
Optimal Cd and down force
Finding the design that matches the vehicle and the optimal aerodynamic function are the two main pretensions for the construction of body parts. The Novitec Rosso aerodynamic program for the Ferrari F430 accomplishes this accordingly. Should the observer's taste decide about the design, then the aerodynamic function is documented through expendable tests in the wind tunnel. These proof tests, usual during the development by the automobile manufacturers, are extremely rare in the automobile tuning branch, although they are essential.
In the wind tunnel of the Research Institute for Motor Vehicles in Stuttgart, the Novitec Rosso F430 Supersport reached its aim perfectly. In this special institution the driving behaviour of the cars can be reproduced at different velocities. The tests of the Novitec Rosso F430 Supersport were performed by a simulated velocity of 140 km/h. Each part of the Novitec Rosso aerodynamic program has been tested, not only single but also in combination to each other, at numerous tryouts.
The lifting effect originated by the rising velocity can be converted into negative lift force through the accurately calculated Novitec Rosso aerodynamic parts, which offers the more optimal driving stability at high velocities. The Novitec Rosso front spoiler brings the front axle to 15.2 kg down force. The Cd (drag coefficient) is reduced to 0.37. The complete aerodynamic package, including front bumper, rear diffuser, side skirts and rear wing, optimises the vehicle to 8.1 kg negative lift at the front axle and 35.3 kg at the rear axle.
The Novitec Rosso aerodynamic offers to the F430 pilots an extra in security and diving fun, especially during fast driving.
Related:
Pistonheads Drives the Novitec Ferrari F430 [internal]