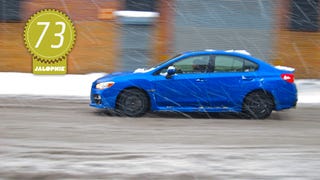 You're always told to not judge someone by how they look. They might look anonymous, but they might also be caring, hilarious, or just plain fun when you talk to them. The 2015 Subaru WRX is Droopy Dog from the outside, but Usain Bolt and Jerry Seinfeld under the skin. This is a car you have to know.
(Full Disclosure: So we didn't get to drive the WRX right when it came out. That's ok. We just spent a week with one in the mud and snow. Those are known as optimal WRX conditions for premium sporty dynamism.)
Subaru started building the WRX as the homologation special for its rally efforts in the 1990s. What you got was an Impreza with a bunch of tacked on bits, like a hood scoop, fog lights, a wing, fender flares, good seats, good steering wheel, a crap radio, and generally nothing else. Oh, it also had a 2.0 liter turbo engine with varying power and all-wheel drive.
That always made me consider the WRX a rude car. A bodge job where Subaru engineers were told to make the Impreza fast and driver focused. It was rarely a treat to look at (though a few models are exceptions), but it wasn't supposed to be.
No. The WRX was made to be driven.
And no matter how ugly the WRX has been, it's always been brilliant once you got behind the wheel. So when we saw the concept for the new WRX at the New York Auto Show in 2013, we thought that worlds were colliding. It was pure sex.