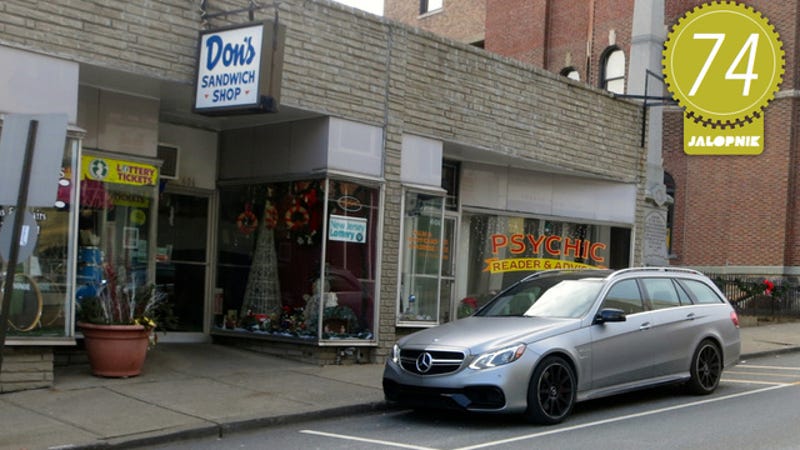 Hot rod wagons are a nasty fetish to a very particular group of people, just like fantasy football or horse pornography. Mercedes knows they aren't going to sell a billion E63 Wagons in America, but they're making a very particular group go nuts. That includes most automotive journalists and readers of this website.
(Full Disclosure: I ate breakfast with a member of Mercedes PR about a month or so back, and it was mentioned that we've gotten zero time to address our wagon fetish. That was promptly fixed.)
AMG tuned Mercedeses have been raucous wild childs (children? I guess it's children.) since they first appeared. Let BMW's M make the cars that are amazing all rounders, because AMG will make tanks with giant engines that are adept at ruining tires by the dozen.
That was the charm of AMG. You knew that the E63 wasn't necessarily as sharp as an M5, but you also knew that if you put down all that power through the notoriously narrow tires, you'd get some hilarious wheelspin, a mountain of noise, and a wide smile on your face. I never imagined the people at M having fun. They'd be very serious, wearing white coats and thick rimmed glasses. Meanwhile, in my mind, AMG is a place where they attach airbags to the undersides of toilets and set them off just to see what happens. Oh, and they definitely go to happy hour.
But then something happened and the AMG team shifted focus. They wanted to be refined and taken seriously. Where the last E63 Wagon was a wild and crazy son of a bitch that laughed at the notion of being sensible, this E63 is all-wheel drive, with a constant 33 front, 67 rear torque split.
What what about burnouts? What about power slides? What about insanity that should have the E63 only talking to a large mute named Chief?
Well, the burnouts are gone. But the rest, well, it's a bit tamer, but it sure as hell isn't boring.
Exterior: 7/10
This generation of E-Class, both pre- and post-facelift, eschewed much of the circular, flowing theme that had been the calling card of the car for nearly 15 years. This new style is aggressive, with daytime LED running lights (of course it has LED running lights), an aggressive front splitter, and more chiseled lines.
It's handsome, especially in matte silver and black wheels, like our test car.
Here's the rub, and it's a problem that seems to plague all high performance German sedans these days: It's not different enough from a base level E-Class. If one were to drive by, I'd really have to look for the cues to know that it were an E63. From the front, I just can't tell. From the sides, the wheels and small "V8 Biturbo" badge give it away, and out back, there are quad trumpets that bellow a glorious noise. But that's about it. It's ok to have a sleeper, and I like a sleeper, but if I'm paying $114,000 for my hot rod wagon, I kinda want it to look different. I want people to know I'm a hot rod wagon fetishist.
Interior: 8/10
Let's discuss these seats and let's discuss them in excruciating detail. Specifically, we need to go over the driver's side seat, because, and we're going to be honest here, that's the only one you care about.
So, the controls for it are on the door. That's weird. But then, to your right, is another set of controls. Pray tell, what do these do, you ask? Well, they adjust the bolsters and the lumbar. But then there's a button for a two stage pulse massage, which is lovely. And another button for the bolsters. The active bolsters. In a corner, the bolsters puff out to hold you in. They are delightful.
Other than that techno wonder, everything is premium, exactly as you'd expect. I do have two quibbles though. The center stack is loaded with buttons, which feels kind of archaic. The gauges also look really old, which is strange for a company that builds the tech obsessed S-Class.
Acceleration: 9/10
AMGs have always been devastatingly fast, even if they had precisely zero grip off the line. That also made them fun. Now, with all-wheel drive, the AMG cars have loads and loads of grip. This wagon is euphoria-inducing levels of fast. The 577 horsepower and 590 pound feet of torque are hallucinogenics in horsepower form, transforming static landscapes into a psychedelic blur with just the slightest touch of your right foot.
Would I prefer it be rear-wheel drive? Definitely. But I can't poo poo a car that can hold all of my belongings and run the quarter mile in a tick over 11 seconds. Mental.
Braking: 8/10
This has 16 inch, six piston rotors up front. My Miata has 15 inch wheels. These brakes are bigger than wheels. Think about that.