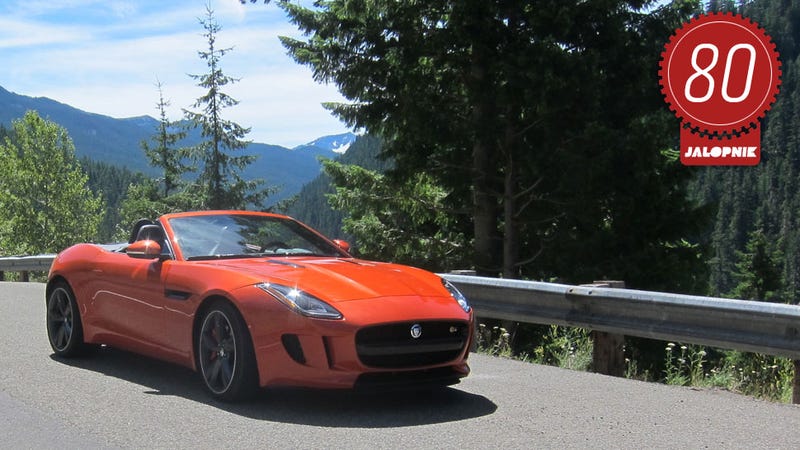 Jaguar did an awful lot of things very, very right with the new Jaguar F-Type. It looks fantastic, it sounds like the devil's own V8-powered sexbot, and is both surprisingly easy and rewarding to drive. My only complaints about the car come from a perverse desire to see something with just a bit more wrong in it.
By 'wrong' I mean a certain willingness to go a bit farther with certain things than rationality would dictate, and the only reason I even think that is because of the car's predecessor 40 years ago, the E-Type.
(DISCLAIMER: Jaguar was so unaccountably eager to put me in an F-Type that they flew me out to Seattle, fed me smoked salmon, let me ride on a float plane, and let me take their fancy cars on a really long drive and on a track. They could have just sent me to dental school.)
You can't help but compare the F-Type to the E-Type, despite Jaguar's insistence that the car is not simply an update of the ancestor. When I look at an E-Type, what I feel goes beyond just appreciating the car's beauty — it's a visceral feeling you get deep in your gut that feels like something between raw, humid desire and the effects of eating a burrito you found wedged in your dashboard.
The reason the E-Type does this to me is because it takes all those classic sports car traits and just pushes them right to — and a hair beyond — their sensible limit. The hood is almost too long, the rear is almost too tapered and sharp, the bulges almost feel obscene, there were insane V12 engines, everything was a wonderfully almost too much.
The F-Type, while it is certainly a very lovely car, is also a rational, carefully-engineered car. Modern competition and regulations means it pretty much has to be. As dramatic and amazing as the old E-Type was, by modern standards it's a pedestrian-crippling murder machine.
That's not to say the F-Type is without its share of drama. It has plenty of that, lots of great little bits of entertaining theater engineered in, like how the HVAC vents raise and lower out of the dash at will, or how there's still a clamshell hood, or the way the instruments go through a "flight check" procedure when you start up the car.
The F-Type was designed with the Porsche 911 as its target competitor. I'm not entirely sure how much sense this makes, as I feel the 911 has a pretty dedicated group for whom nothing but a 911 will satisfy, and a Jaguar has a very different sort of personality. Still, that does mean that Jaguar spent a lot of time making sure the car drives as well as it looks.
I spent a lot of time in the F-Type. Most press event drives cover maybe 50, 75 miles or so — this drive was 270 miles, with me as both driver and passenger, on the highway, windy mountain roads, and track. It's an impressive car, and I think a worthy adversary to the current expensive but sub-supercar lineup.
EXTERIOR 9/10
First off, I want to say I really liked talking to Wayne Burgess, lead designer of the F-Type. He was very engaging and willing to discuss all manner of ridiculous cars. But what may have impressed me most was that this was the man who designed the modernized London cab, the TX-1. That's some range right there.