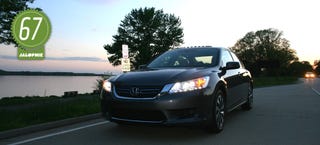 Even in this era of the Porsche 918 Spyder and its ilk, enthusiasts tend to look down on most hybrid cars as slow, dull, soft, and antithetical to driving fun. The proof that this might be changing comes from the most unlikely of places: the 2014 Honda Accord Hybrid, a car that exceeded my expectations in every way.
(Full disclosure: Honda needed me to drive the Accord Hybrid so badly that they gave me one for a week with a full tank of gas. I didn't have to put much gas back in it when I was done, and that was nice.)
I hung my head low when I first learned I'd be getting this car to review. It's an Accord, and on top of that, it's a hybrid, I thought to myself. Could it possibly be any more boring?
But it turns out the Accord Hybrid isn't really boring at all, especially in terms of the technology it puts to use. It's also quicker than than you'd think, handles quite well, is comfortable and well-built, has lots of toys, returns excellent gas mileage, and manages to be much more fun to drive than your average family car.
Fun to drive! An Accord Hybrid! Before you demand my Jalop card and order me into emergency rear-engined air-cooled therapy to restore my sanity, hear me out.
Let's talk power first. Opt for the hybrid Accord and you get a 2.0-liter Atkinson cycle four-cylinder (Honda's first) that puts out 141 horsepower. That's coupled with a battery-powered electric motor that gives you 166 horsepower and 226 pound-feet of torque from zero RPMs. A second electric motor works as a generator to charge the battery pack. Honda says "total system horsepower" is 196.
Power always goes to the front wheels, but it's almost always coming from the electric motor with the gasoline engine kicking in only under hard acceleration and on the highway. There are three modes in total: EV, gasoline and hybrid where the engine powers the generator. It uses electric power much of the time, and this is readily apparent from all the torque you get.
And then there's the transmission. Can you guess what transmission it has? Six-speed automatic? CVT? Dual clutch? Trick question because THERE IS NO TRANSMISSION. Well, not in the traditional sense. Here's where the normally boring Accord starts to get really interesting.