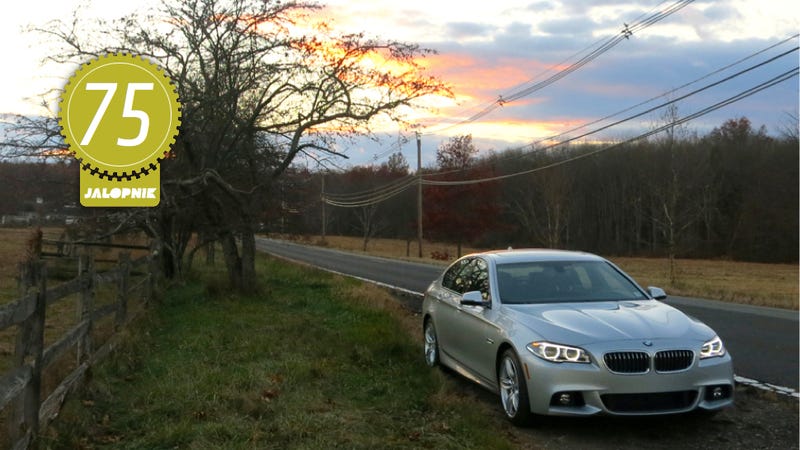 Torque, not horsepower, equals drivability. Accessible torque is what people need in everyday driving, not to rev the nuts off a car to make 200 horsepower. That's why diesel is brilliant. But years of negative stereotypes have painted a scarlet letter A all over diesel engines. It shouldn't.
(Full Disclosure: BMW wanted me to drive the 535d so bad that they let me take it for a weekend of clean diesel enjoyment. The mountains of torque willed me along effortlessly.)
Diesel does quite a few things better than a traditional gas engine, but a couple stand out immediately. The fuel economy numbers are just bonkers — often returning better-then-hybrid performance without having to drive a car weighed down with batteries (38 MPG on the highway, if you were curious). Unfortunately, diesel is more expensive than premium fuel in most place and the savings aren't evident until years after owning the car, and that's a turn off even if the same is true of hybrids.
The other, and more noticeable benefit, is torque. Oodles and oodles of torque. In an executive sedan like a 5-series you're more likely to be cruising down a highway than at max revs blasting around a race track. The highway is where torque is your friend.
BMW (along with German competitors Audi and Mercedes) knows this, and in the last few years they've started offering a limited selection of diesel-powered vehicles to us yanks. We aren't getting the full range of offerings, which means we don't get the smallest or the largest, most powerful versions. Instead, we're getting a midrange 3.0 labeled as the 535d. No, it isn't the balls out wild M550d or the frugal 518d, but it should be enough to please most everyone.
The 535d has 256 horsepower, which isn't all that much, but has 413 pound feet of torque available from 1,500 RPM. What that means is effortless acceleration in any gear. It's a truly wonderful engine, and why BMW doesn't advertise that torque number everywhere and evangelize what it means is far beyond my limited understanding of the world.
BMW has done right to put that engine in the 5-series, which is the car that has been the premium sports sedan benchmark since someone first marked a bench. The newest 5-series isn't controversial like the E60 (For the record, I rather liked the E60. My mom liked it so much she had three of them) and is decidedly attractive.
But the competition, namely the 2014 Cadillac CTS, have caught up to BMW. Like any brand, BMW's focus is changing from being The Ultimate Driving Machine to a company that produces more eco-friendly, still fun to drive cars and provides mobility solutions (aka i3). A lot of people say BMW lost its way, but you don't see anyone saying that about Cadillac's focus on being a performance oriented brand, do you?