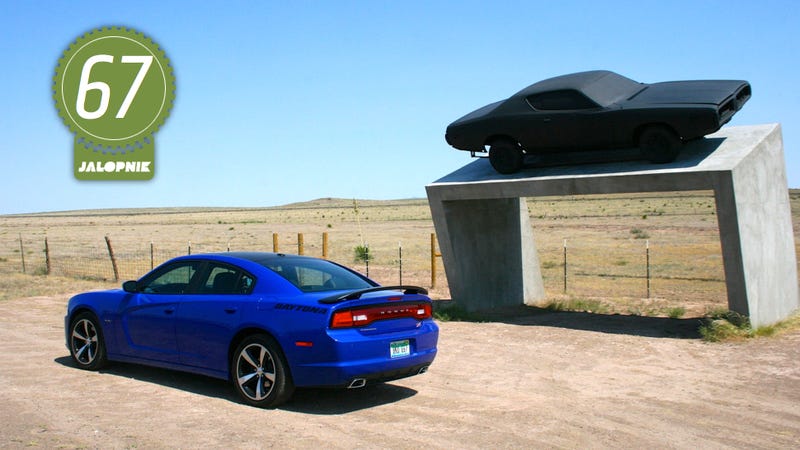 America used to be the land of big rear-wheel drive sedans, coupes and wagons with V8 power. That isn't the case anymore. But it's part of what makes the current Dodge Charger so unique; it's one of the last large, unapologetically old school V8 sedans left on the market.
I mean, have you noticed that in 2013, there really aren't that many American cars with V8 engines anymore? The V8 didn't become irrelevant, it just graduated into an upmarket, performance-oriented role for people willing to take the fuel economy hit to get big power on cars like the Camaro SS, the Mustang GT, the Cadillac CTS-V, and the Corvette. Of course, the V8 continues to soldier on in trucks and large SUVs, but they've become fairly rare in cars.
So how does a huge sedan with a 5.7-liter Hemi V8 named after a famous muscle car stay relevant in this world of shrinking cars and shrinking engines? By growing up while still playing to its strengths, that's how.
(Full disclosure: Chrysler was kind enough to lend me a 2013 Dodge Charger R/T Daytona for the second leg of my trip through Texas. I swear I did not use it to impersonate any police officers, though I was tempted to.)
It turns out that the Charger is now kind of like that guy who was a raucous, hard-drinkin', bar-fightin' sumbitch in his high school years who now has a family, a good job in the tech industry, and a house in the suburbs. (We'll ignore his experimental phase in college.) Oh, he can still start shit the way he used to, just not as much, and in a far more civilized way.
Maybe even too civilized. We'll get back to that in a bit.
For week two of my Texas trip I had in my possession a 2013 Dodge Charger R/T Daytona, an ostentatious, bright blue, NASCAR-inspired, limited edition take on their big sedan. I took it on a 6-hour trip from San Antonio to Marfa — a tiny town in the high desert of West Texas filled with delicious restaurants, art galleries and assorted oddities like Prada Marfa, the Marfa Lights and that Playboy statue everyone hates — and then back to Austin, which took another 6.5 hours.