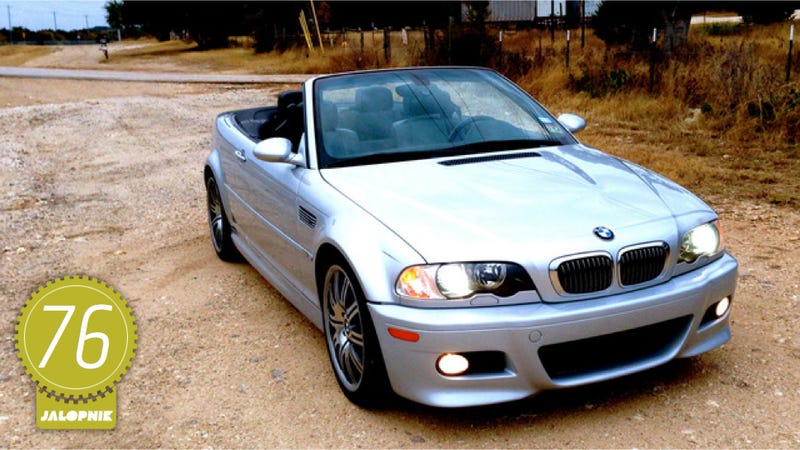 Once upon a time, BMW could call its cars the Ultimate Driving Machine without people rolling their eyes and laughing. It's a bit harder to swallow in this era of diesel M-Sport cars, bizarre naming strategies, bloated designs and slow-selling oddballs like the 5-Series GT. Thank God for the E46 M3.
The good news is that the cars that made us care about BMW in the first place aren't going away; they're just getting more affordable, provided you don't mind a copy with a few miles on it and you have a budget for proper maintenance.
Ten years ago, the lovely machine you see above would have cost you something like $60,000. Now, thanks to the miracle of depreciation, an E46 M3 and all its 333 horsepower naturally aspirated straight six magic can be yours for far less than that. Yay depreciation!
(Full disclosure: BMW needed me to drive the 2003 M3 so badly that they sold one to my father, who let me hoon the crap out of it when I went home to Texas for the holidays, because hoonage is what Christmas is really about.)
When the E46 M3 debuted in 2001, the buff books spent a great deal of ink heaping praise on its ferocious speed, its impeccable handling, its impressive gearboxes, and its good looks. But even then, journalists and car aficionados alike may not have realized just how special this car was.
The E46 harkens back to a time before iDrive, before turbochargers, before engine sounds had to be piped in through the speakers by a computer, before touch screen infotainment systems, before Gran Coupes and GTs, before track apps, and before artificial-feeling electric steering.