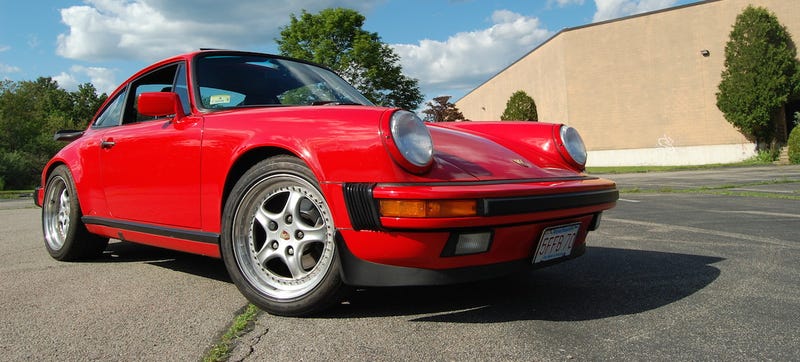 How do you write a car review for something like this without resorting to tired, old cliches? I'm not sure you can, but what I am sure about is that this car deserves all of the praise it's been given. If you don't like 911s don't read on.
Admittedly I was afraid to drive this car, not just because I didn't want to wreck a car that didn't belong to me, but I was afraid to be disappointed. The fear of being let down by one of my hero cars was great, but thankfully not greater than my desire to drive it. I'm glad I did because holy crap, it's one of the best cars I've ever driven. It's all the car I'd ever want.
This car belongs to my father, who bought it last November after getting fed up with restoring an Austin-Healey 3000, after it caught fire in the garage (British cars, am I right?). He'd hated the 911 for years and years, but I encouraged him to reconsider citing the 911's everyday reliability. He came around to my viewpoint and started hanging around some Porsche mechanics, one of whom found this car for him–a 1987 Carrera 3.2 with the much-heralded G50 gearbox.
From the factory, it was fitted with heavily bolstered sport seats, a limited slip differential, and that iconic whale tail spoiler. A previous owner installed Michelin Pilot Sport tires (255 rear, 225 front), different rims, aluminum pedals, and a modern head-unit, but otherwise it's exactly as it was when it left Zuffenhausen.
It's pretty much the ideal spec for a late-80's 911 Carrera.
The car evokes the 1980s and the same time, manages to transcend it. Let me explain. To paraphrase Jalopnik alumni Sam Smith's review of the McLaren F1, great cars evoke the time period they were built in, while amazing cars are timeless. Somehow, this 911 manages to do both. In Guards Red with the whale-tale, it's such an '80s icon, but driving it doesn't feel '80s at all–it transcends the time period.