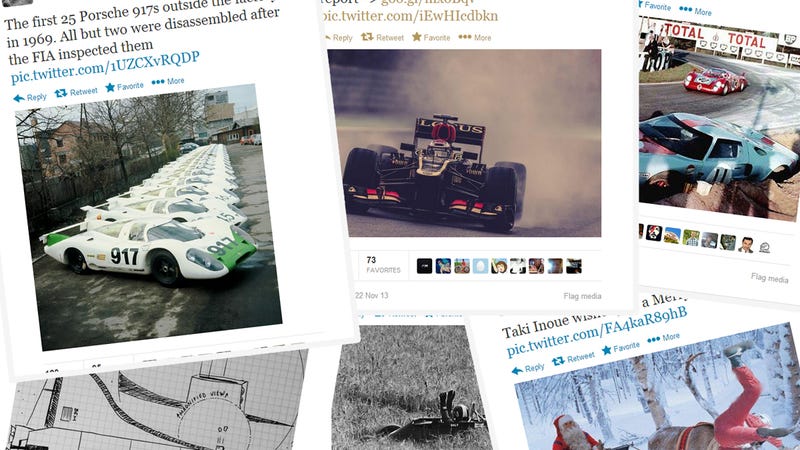 Twitter is the shortest way to nirvana in many cases, and apart from Jalopnik and Spinelli's Hair, these ten accounts deserve your gas-fuelled attention.
---
Meat Loaf designed Williams' first championship winning car pic.twitter.com/08qYIcV4zd

— BadF1Stats (@BadF1Stats) April 13, 2013
If the real stats and F1 trivia makes you fall asleep, have no fear, all you have to do is switch to the alternative reality provided by BadF1Stats.
Suggested By: Joao Victor Moretti
---
Marry Christmas scare on Dad. He was on the run. https://t.co/Ptve1G494V

— Jordan Taylor (@jordan10taylor) December 25, 2013
ncasolowork2 has this to say about Jordan Taylor:
Jordan is the Grand-Am champion from 2013 in the Daytona Prototype class. He also grew a mullet. He made movie and Seinfeld references every time SPEED interviewed him and gave away prizes on twitter to whoever picked up the subtle references. In addition to his two music videos he just bought a 65 C2 Corvette Stingray, "his dream car."
Suggested By: ncasolowork2
---
Getting older, getting its position lower like my D*ck! pic.twitter.com/b3Om4JiTv8

— Taki Inoue (@takiinoue) December 21, 2013
Former Japanese F1 driver and current Monte Carlo resident and manager Taki Inoue is close to Hungarian hearts anyway, but drift240 recommended him for a different reason:
When I first stumbled across his twitter feed I thought it was fake, then I did some searching and found that Taki Inoue really is that nuts.
Suggested By: teampenske3
---
A MINI boss said "make a car that will leave any driver looking a total prick." Resulting product is faultless. pic.twitter.com/JiWOenaE18

— chris harris (@harrismonkey) December 22, 2013
You need a monkey in your life.
Suggested By: TavshedFjols
---
Every year the car industry sends out a book of PR contacts. This, apparently, is what my dog thinks of that pic.twitter.com/5Z1pv82MMt

— Sniff Petrol (@sniffpetrol) December 16, 2013
Another day at the office.
Suggested By: lt5zr180
---
#VEHICROSSTAG pic.twitter.com/wW70uZEAAE

— Fred Smith (@porsche914yr74) December 23, 2013
Gonna give a mention to one of our own, Mr. @porsche914yr74. He RTs a lot of information about pretty much every race series on earth, plus livetweets of random syndicated Seinfeld episodes.

Also a HT to @radiolemans and @specutainment, being Eve Hewitt and John Hindhaugh respectively. The combination is also a good bit of following for racing news.
Suggested By:Axel-Ripper
---
Le Mans, 1970: The 917K of @MrDavidHobbs getting snatched from the track, while the Le Mans film camera car drives by pic.twitter.com/mbcwoe1kge

— Racing History Pics (@classicracepics) December 22, 2013
What more could you ask for in your feed apart from Jalopnik than what Racing History Pics has to offer?
Suggested By: Raphael Orlove
---
Mmm. This looks good. pic.twitter.com/JBO6VLPWAz

— Jeremy Clarkson (@JeremyClarkson) December 8, 2013
Roof of Panda this morning. #NotVeryInteresting pic.twitter.com/YWIweoz98k

— James May (@MrJamesMay) December 20, 2013
You'll need May to balance out Clarkson.
Suggested By: DasWauto
---
For Black Friday shoppers... A backpack that projects a holographic line in front and behind you. pic.twitter.com/njtUVQemIs

— Bored Elon Musk (@BoredElonMusk) November 26, 2013
This is what he does when not owning the year.
Suggested By: nermal
---
Today is the #GlobalOrgasmForPeaceDay. Thought we'd give them a hand. #ComeTogether pic.twitter.com/Vrpm9OFFCI

— Lotus F1 Team (@Lotus_F1Team) December 21, 2013
Paying a guy to write funny tweets is much cheaper than Kimi Raikkönen.
Suggested By: ThrillerWA09
Welcome back to Answers of the Day - our daily Jalopnik feature where we take the best ten responses from the previous day's Question of the Day and shine it up to show off. It's by you and for you, the Jalopnik readers. Enjoy!